Play Now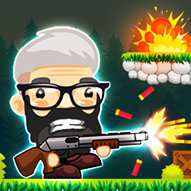 In Heads Mayhem, load your gun and take your position. This battle is going to be a long one, we can assure you! The question is, are you brave enough to stand your ground and fight?
Do you hear that? Death comes knocking at your enemy's door. As long as you stand and fight, nothing can destroy us. In this action shooter game, your objective is to take down your opponent and score more kills than your enemy. First, you have to choose a character and a map to begin playing. There are 11 characters and 8 game maps to choose from. You can either play against the CPU or play with your friends. This game is for two to four players on a single PC and each player has 5 lives in the beginning. You have to get rid of your opponents by either shooting them or pushing them off the platform. The last man standing wins! As you are playing, you will see new weapons popping up on the platform. These weapons are better than the one you have so try to get them to win more quickly. Get ready to join your opponents in the arena. It's time for them to meet their master!
If you enjoy serving justice to your enemies, check our collection of online action games to browse more games like this one. Have fun!
Developer
Developed by RHM Interactive.
Release Date
Jul 09, 2020.
Features
Different maps to choose.
Multiplayer gameplay
Cool graphics
Different characters to choose
Controls
Use the arrow keys to move. M and N to shoot.