Play Now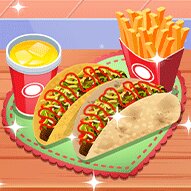 Yummy Taco brings your dreams about opening and running a taco shop to life! Start with the smallest details and build your taco empire just the way you want it. From preparing the tortilla to the customer service, you get to decide how everything is going to work here.
You are given four main tasks you have to go through. The first task shows you how to prepare tortillas you will be using in your shop. For the second task, you make ground beef and cook it, and then you are asked to catch the falling ingredients. The third task requires you to decorate the kitchen and clean the oven. And finally, you reach the fourth task where you are ready to open your shop and serve your customers. For the first customer, you are shown the order you have to use the ingredients, it is safer to keep that order in mind. There is a time limit for every customer which upon reaching they get angry and leave your shop dissatisfied. Always keep your fries ready to save some time, and do not forget: here, faster service always means happier customers. Serve all the customers well and finish every workday with three stars!
If you enjoy this game, you can play our other food games by clicking here.
Developer
iclickgames developed Yummy Taco.
Release Date
December 6, 2021
Features
Colored 2D graphics
Clear instructions
Cute character design
Available on mobile devices
Controls
You can use your mouse to play this game.