Play Now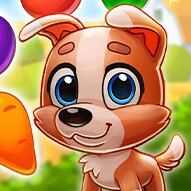 Yummy Tales invites you to the serene countryside for fun! Among the beautiful views and friendly farm animals, be ready to get your hands dirty by popping some delicious fruits and vegetables! If so, wear your boots, put on your straw hat, and embrace nature!
Fruits and veggies are healthy but have anyone told you that they are also fun to play with? Your objective in this colorful and deliciously addictive game is to complete each level by completing different tasks. The game features dozens of levels, but you need to unlock them one by one. You can select a level from the map menu. Clicking on a level will reveal the task you'll need to complete to be successful. As you progress through the game, levels become harder. Don't worry! You can unlock different kinds of boosters! Keep your eyes on your move count, as you need to complete your task before you run out of moves. The fewer moves you use more points you'll achieve at the end of the level! Good luck!
Want to try something new? We game lots of fun games waiting for you! Why don't you check our category of free and online puzzle games? Enjoy!
Developer
Azerion developed Yummy Tales.
Release Date
September 17, 2021
Features
Colorful 2D graphics
Dozens of fun and addictive levels to complete
Daily login rewards
Intuitive controls
Different boosters to use
Controls
You can use your mouse to play the game on PC, or your finger to play on mobile devices.