Play Now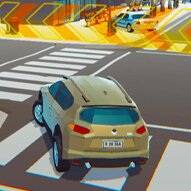 Invite your friends to thrilling races in a beautiful 3D city with 2 Player 3D City Racer! Unlock and drive amazing car options from luxurious race cars to ambulances and police vehicles, and defeat your opponents on a challenging track in the open city map! Pass levels to face more difficult enemies and master the city racing!
Welcome to a city built as a stage for the most heated races the world has ever seen! You will be racing against the characters you see every day: ambulances, police cars, and usual citizens. They all have unmatched driving skills, of course! Hit the play button, check your options in the garage, and choose between the single-player and 2-player options! The single-player game matches you with the game bot, while the 2-player mode splits the screen in half so that you and your friend can play at the same time. Using pavements as shortcuts and hitting your opponents can earn you some time and slow them down. You can also try to push them toward the obstacles. You get money from the matches you win. Do not forget to stop by the garage and unlock new cars! Have fun!
If you like city races, you can check out Police Drift & Stunt and pull extreme stunts with a police car!
Developer
Vitalitygames.com developed 2 Player 3D City Racer.
Release Date
July 13, 2022
Features
Challenging city tracks
Unlockable car options
1-P and 2-P modes
Increasing difficulty with new levels
Nice 3D graphics
Controls
Use the arrow keys or "W, A, S, D" to play.