Play Now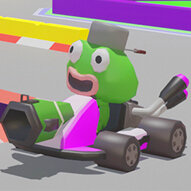 In Smash Karts, get ready for the most exciting kart race ever! This island could be the end or take your career to the next level as a racer! If you ready to test your skills, invite your friends, show up on the racing field and pull off your trick! The game will be getting exciting as the players eliminate each other! Will you be the last survivor and be the winner of this race? Good luck!
In this multiplayer racing game, it is not about speed! You will be tested with your driving, shooting, targeting skills, and your patience! That the people you call friends are about to knife you in the back. Customize your character and build a nickname first when you first start the game. You can also check your character's stats from the main menu. You can enter various rooms or make your own to hang out with your friends. The racing area changes as the region is changed. Your goal is to collect surprise boxes and use whatever you find inside to survive: bullets, grenades, even rockets?! Buckle up, put on your helmet, reload your weapons, and take down your opponents! Try to collect as many boxes as possible during the race. Some of them will provide you with powerful weapons that will make eliminating your opponents much easier. Your life bar is displayed at the top of the game screen. If your life bar fills up, you can reconnect to the game after a few seconds. Good luck!
If you want to play more multiplayer games be sure to check CarFight.io, too.
Developer
Tall Team Limited developed Smash Karts.
Release Date
April 2021
Features
3D colorful graphics
Multiplayer
Different regions to choose
Intuitive controls
Controls
You can use your WASD keys or arrows to move, the space bar to shoot.