Play Now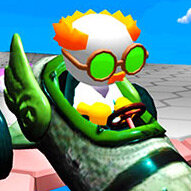 In Hexa Cars, get ready for a race that will push you to the edge of your seat. You are one of the hand-picked people that are supposed to participate in this race to the death, and it is only for the entertainment of the audience. Are you ready to show everyone else who is fast and furious?
The tribunes are filled with people who can't wait to see who the last man standing will be! In this fun racing game, you'll either emerge victorious or perish into the darkness. There's no middle ground. There are two different game modes. You can either play against other people from all over the world or your friend. Make your choice and let the race begin. Ready, set, go! Your objective is to be the last player alive. All of the players will be on a platform full of hexagons. When you start driving, these hexagons will fall off and the map will start disappearing. If you don't react quickly, there's no telling what will happen to you. There are multiple platforms in each level. Make sure the others fall off the platforms before you do. Race through different maps and show them they don't stand a chance! Have fun playing!
If you are looking for other games like this one to play with your friend, you can check out our collection of online 2 player games . Enjoy!
Developer
RHM Interactive developed Hexa Cars.
Release Date
April 08, 2021
Features
Many different maps
Many different skins to buy
Intuitive controls
Fun and addictive gameplay
Controls
To control the first player, you can use the arrow keys. Space bar to jump. To control the second player, use WASD keys to move. Q to jump.