Play Now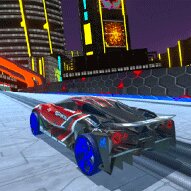 Cyber Cars Punk Racing will make you feel the thrill in your veins! With futuristic cars and a background theme, this racing game will lock you in front of the screen till you never want to get up again! Your opponents aren't only the players from all around the world or your BFF but also the time limit, stunt scores, high ramps, and many other challenges. Complete the levels one by one and write your name to the Cyber Cars history now!
Welcome to the most fascinating 3D car racing adventure! Here, you can find any kind of competition you want! Featuring 3D graphics and a futuristic theme, you'll fall in love with this fun game if you are an addict to car races. In this game, you will find various game modes. We suggest you take the free driving mode first to get to know the challenges. You can invite a friend over and enjoy the 2 Player mode to see who the best racer is! If you are playing solo, click on the career button to see the other 5 modes that you'll complete 36 levels. In Hot Chase mode, you will be followed by the police and need to run as long as you can! Lastly, in the Battle Arena, you will be competing with players all around the world and need to destroy them all! Good luck and have fun!
Don't forget to check our collection of free and online racing games to browse more fun titles like this game.
Developer
AYN Games developed Cyber Cars Punk Racing
Release Date
February 23, 2021
Features
3D colorful graphics
Various skins and upgrading stats
In-game shop for unlocks
Over 7 different game modes
Fun and addictive gameplay
Controls
Player 1 Controls: "ARROW KEYS" or "WASD" to drive. Nitro: "N" Camera View: "C" Player 2 Controls: "WASD" key to drive. Nitro: "T"