Play Now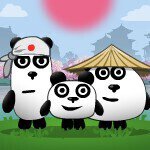 In 3 Pandas in Japan, this trio of adventurous pandas never imagined their calm afternoon would shift into something more action-packed! Only wanting to capture a couple of beautiful photos of landmarks, a sneaky ninja got in the frame. Now, as the only witnesses of this crime, this trio is keen on fighting for justice. Can you help them through multiple puzzle-filled levels and catch the thief?
Cherry-blossom filled gardens are not the only thing these pandas found! Not only that thief committed a crime, but he also broke the camera of the pandas! Your objective in this game is to take control of this trio and pass each level by solving various puzzles in them. You can use your mouse to play this game, so click on the play button on the main menu to start the game. You'll encounter many other characters during your journey! From a trader having troubles with loading goods to his cart to a hungry bear looking for fish, you better roll up your sleeves! To overcome all these problems and reach your destination, the three panda brothers need to cooperate. Just like their diverse personalities, each one of these characters has different abilities. Click on them to use their skill, and do your best to catch the thief and reclaim the stolen relic! Enjoy!
Life of these characters is filled with adventure! Help them escape from pirates in the other title of this fun series, 3 Pandas! Have fun!
Developer
Flash Team developed 3 Pandas in Japan
Release Date
May 2018
Features
Can control 3 pandas
Entertaining levels with different puzzles
Colorful 2D graphics
Smooth gameplay
Controls
Use your mouse to play this game.