Play Now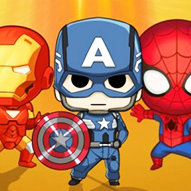 In SuperHeroMerge get ready to enter the battlefield if you dare! Only the brave, powerful, and smart ones can survive in this arena. Are ready to live the complete superhero experience? Onwards to a new adventure then!
So many bad guys, so little time... Do you see that? Harley Quinn is emerging from the darkness with her friends Bane and Joker. They are bad to the bone and we must stop them. Spiderman, Ironman, and the others might help us. But how to summon them? In this game, your objective is to defeat supervillains and get a high score. When you first start the game, you'll see familiar faces. Some of them are bad guys, some of them are our heroes and some are just treasure cards. What you need to do is merge two cards that have the same number on them into a better and more valuable card. You can combine treasure cards that are on the same level as well. You can also merge them with hero cards that have a bigger or the same number. Click a card and drag it to unite two cards that have the same value. And later on, use that card to defeat your enemies. As the game progresses, you'll face enemies that are more powerful. To defeat them, use an equally strong character or perhaps even stronger. Continue until you have no moves left. The people of this town trust you to save them, hero!
If you want to play more online puzzle games, click here to browse more titles like this one. Enjoy!
Developer
Developed by LoraStudio.
Release Date
June 30, 2020.
Features
Different superhores and villains
Fun and addictive gameplay
Nice graphics
Intuitive controls
Controls
Use your mouse to play this game.