Play Now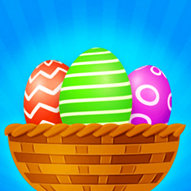 In Color Eggs, it's time to grab your paint brush because we're about to paint some eggs. Who says you can only dye eggs for Easter? It's always fun to decorate them and they always look nice. So, we decided to bring some egg-stra Easter fun into your home. Even if Easter isn't here yet. Care to join us?
It's that time of the year again. Or maybe not Well, it doesn't matter really because we're feeling a little extra holiday joy today. Do you see the customers walking through your door? Apparently, they do too. Your objective is to dye the eggs you see in the picture and sell them to the customers. First, start with the dye buckets. Click on the one you choose and drop your egg into the bucket. You can also decorate them using utensils and decorate in creative ways and make different patterns. You can see the way you should decorate the egg at the top of the screen. Sometimes, you may need to paint them in two or three colors and use different utensils. When you finish decorating, it's time to sell them! There are 3 customers, and you should find the highest bidder. But don't worry. If you pass the first bidder and move on to the next ones, you can always go back to the one who offers the most money. Play now and unleash your creativity.
If you like painting, we have a puzzle game similar to this one. Play Roller Splat! now and roll the colorful ball to paint the platforms.
Developer
Developed by BPTop.
Release Date
July 20, 2020.
Features
Fun gameplay
Multiple decoration options
Colorful graphics
Easy controls
Controls
You can use your mouse to play.