Play Now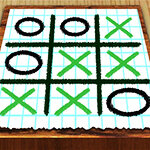 In Tic Tac Toe Paper Note, get ready to play one of the most fun and exciting games online! Ditch the paper and pencil, because you won't be needing those in this game! Embrace the Xs and Os, and start the fun now!
Choose your side! Do you want to be the X or the O? The main objective of this game is no different from the classic pen and paper tic tac toe games. You try to be the first one to line your 3 symbols side by side horizontally, vertically or diagonally. You can play this game with your mouse. To start, pick how many rounds you want to play. Next, choose a game mode on the main menu. You can either play against the computer or a friend in turns. When you begin, click on one of the empty spots on the board to leave your mark. Wait for your opponent to do the same and repeat. Keep in mind that while you're trying to win, you should also make sure to block the other player's way. You can see your and your opponent's score on the sides of the screen. The player with the most points when the rounds are over wins the game. Enjoy!
Want to play more games that'll challenge you? Then why not check our collection of free puzzle games? Have fun!
Developer
RHM Interactive developed Tic Tac Toe Paper Note.
Release Date
September 20, 2019
Features
Colorful 2D graphics
2 different gameplay modes
Intuitive controls
Entertaining gameplay
Controls
You can use your mouse to play this game.