Adam and Eve: Adam the Ghost
Play Now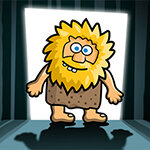 In Adam and Eve: Adam the Ghost, get ready for some sleepless nights! Adam is on a mission to scare people and it's the perfect time to get into the spooky spirit. So, get ready for a fright night and prepare yourself to scare the life out of them!
They say that love changes a person. Well, we guess it's true but it's also safe to say that unrequited love changes a person, too. Adam went to see Eve last week and found out that she has been cheating on him. And now, Adam is angrier than he has ever been. He has finally learned that Eve doesn't love him. After all the trouble he has been through to be with Eve, he just can't take it. So, he has turned to the dark side. Insert evil laugh here. Your objective is to complete all the levels and scare children, women, men, and also a nun. Yeah, you heard it right. It's payback time, nun! You have to solve the puzzles to give them a good scare. The game has the same Adam and Eve mechanics. Just use your mouse to play. Did you manage to give them the heebie-jeebies? Very good! Bwah-hah-hah!
Did you like this new evil Adam? Good! We do, too. Play Adam and Eve: Zombies by clicking here to witness how our caveman destroys these brain-eating zombies!
Developer
Developed by Functu.
Release Date
February, 2018.
Features
14 levels to complete
Fun gameplay
Different places to see
Nice 2D graphics
Controls
Use your mouse to play.