Play Now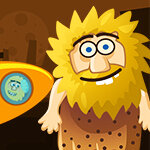 In Adam and Eve: Astronaut, the brave and adventurous cavemen turned his gaze beyond the skies, but he needs your help to reach to the stars. Needing to find the engine of his rocketship, Adam requires some assistance finding it. Can you find the engine together through puzzle-filled levels?
Just because he lives in a cave doesn't mean Adam isn't interested in space! Your objective in this game is to complete each level by solving puzzles to create a clear path for Adam to move. The obstacles on your way might be challenging but the controls of this game are pretty simple. All you need to play the game is your mouse. To start, click on the play button on the main menu. Playing is easy! Just click on the objects you see on the screen to try to solve the puzzle. Sometimes you need to move a few planks to build a bridge, and other times you should sneak past a security guard. When you think you're done with moving the objects, click on Adam so he can move. If he doesn't, then take a look around more carefully. You might be missing something. Enjoy!
Why not try the other game in this series, Adam and Eve: Zombies, and help the cavemen to deal with the undead by clicking here? Have fun playing!
Developer
Functu developed Adam and Eve: Astronaut.
Release Date
October 22, 2019
Features
Colorful 2D graphics
Intuitive controls
Entertaining gameplay
Multiple levels to complete
Controls
You can use your mouse to play this game.