Play Now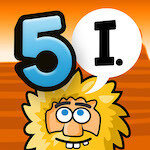 In Adam and Eve 5: Part 1, the adventurous caveman Adam is escaping from his current lover, and he needs your help to overcome the obstacles on his way. Join him in the first part of the fifth adventure of this prehistoric man, and make sure he reaches his destination safe and sound!
The age where Adam lives in is full of dangers and troubles. But with you by his side, he can go anywhere without the fear of death! Your objective in this game is to complete each level by fixing puzzles in them to clear a path for Adam. You can play the game with your mouse, so click on the play button on the main menu to start the game. Not different from the other titles in this popular series, you have to click on certain items and objects on each level to use them. Sometimes you'll face obstacles like a rock or a wild animal. Look around the level to figure out a way to get rid of them, so Adam can continue his journey to the next level. From dinosaurs to giant fishes and witch doctors, an action-packed journey is waiting for you in this fun game! Have fun playing!
If you like the series, be sure to check the other title Adam and Eve: Love Quest by clicking here! Enjoy.
Developer
Functu developed Adam and Eve 5: Part 1.
Release Date
December 14, 2018
Features
Colorful 2D graphics
Intuitive controls
Many puzzle-filled levels to complete
Entertaining gameplay
Controls
You can use your mouse to play this game.