Play Now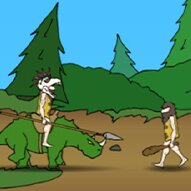 Decide between three difficulty levels and destroy the enemy base with ingenious strategies with Age of War! Start with sticks and stones and evolve your base with the latest battle technology! From mount dinosaurs to laser beam cannons, a long battle of human history awaits you!
You can check the instructions for detailed information before starting and click on extras to see an artwork of a character's design. Choosing the easiest one between Normal, Harder, and Impossible would be the best idea for warming up to the game. On the upper left of your screen, you can see your experience and money. Experience points are used to level up your civilization while you can train different kinds of soldiers, build more turret spots and buy turrets with your money. The enemy will be sending men relentlessly towards your base, destroying everything on their way. This is where you should start building your strategy. The game ends when one of two bases is fallen, so protect it at all costs. You can also get help from the special attacks that renew with time. Adap to the world faster, build the best defense system, and burn your eternal enemies to the ground!
If you like tower defense games, you can check out our Strategy Games category by clicking here.
Developer
Agame developed Age of War.
Release Date
April 25, 2017
Features
3 difficulty options
Colorful 2D graphics
Improving strategy skills
Fun and addictive gameplay
Controls
You can use your mouse to play this game.