Play Now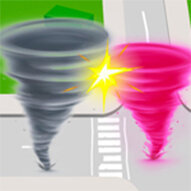 In Super Tornado.io, take control of a tornado ready to devour every city, people, and animal that crosses its path! Be on the winning side of history and show everyone what you are capable of. Do you think you can become the biggest tornado in this multiplayer game?
When tornadoes come to destroy everything you have ever known, you run! Lucky for you, you are one of those tornadoes that are ready to bring everyone to their knees. In this io game, your objective is to become the biggest tornado by eating everything that dares to cross your path. Nothing is safe from your devouring appetite here, not even other tornadoes. Press the left mouse button to move around the city. When you pass over cars, animals, people, and buildings, you fill up the bar on the top right corner of the screen and level up. You need to reach the top of the leaderboard before the timer below the level bar ends. The only thing to watch out for is tornadoes that are bigger than you. If you run across a player with a bigger level, stay away! Collect the meat if you want to level up faster. Keep in mind the keys around the map and get them all to unlock new skins. With the money you earn after each match, buy power-ups to reach the top of the leaderboard even faster. Have fun playing!
If you are looking for more games like this one, you can check out our collection of online .io games by clicking here. Enjoy!
Developer
YAD.Com developed Super Tornado.io
Release Date
May 12, 2021
Features
Quests to complete
Achievements to earn
New skins to unlock
Power-ups to buy
Online multiplayer gameplay
Controls
You can use your mouse to play this game.