Play Now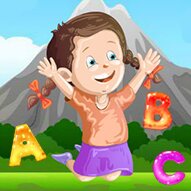 In Alphabet 2048, the game that dominated the world for a long time returns once again with a new version. Featuring nice 2D graphics and fun gameplay, this game will lock you in front of the screen for hours on end. Are you ready to become a part of this fun puzzle game one more time?
Nature calls you to test your 2048 skills. Only this time, your work is not with numbers but letters. Wander into the forest and learn new letters with the animals. In this game, your objective is to merge the same numbers on the board to earn a high score. To do this, you can use the arrow keys or your mouse. Just press one of the letters and swipe the screen to merge them. You can only merge the same letters and get a new letter. Match new letters to unlock new ones in the alphabet and try to reach Z. If the board is filled entirely and there is no place to move, the game is over. Don't feel sad. You can always click on "shuffles" or "regroups" buttons to continue playing. Just keep in mind that you can use these buttons a limited number of times. Have fun playing!
There are more games like this one in our collection of online puzzle games. You can check it out and give your brain a workout by clicking here. Enjoy!
Developer
Lof Games developed Alphabet 2048.
Release Date
April 09, 2021
Features
Fun and addictive gameplay
Nice 2D graphics
A high score to earn
Intuitive controls
Controls
You can use your mouse or arrow keys to play this game.