Play Now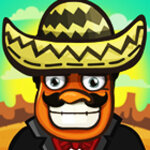 In Amigo Pancho, you better hold on tight to the balloons and be prepared to escape the desert! This place is scorching hot, and our character wants to get out ASAP! Join him on this fun game and make sure he floats away from the sandy and hot land. Try your best to overcome all the obstacles on the way and don't forget to apply your sunscreen!
Featuring 25 different and puzzle-filled levels, you and the main character of this game have a lot to deal with, so you better start now. The objective of this game is to complete each level by helping the character to float to the endpoint by removing obstacles on his way. This may sound easy, but with 3 different difficulties, you'll need to be careful! The first 7 levels are at easy, the next 11 levels are at medium, and the last 7 levels are at hard difficulty. On each level, your character will be holding 2 balloons. The obstacles you'll encounter usually have sharp and pointy ends that could pop these balloons and send your character back to the scorching desert! In addition to these objects, you'll also have to evade bandits, cactus plants, and many more challenges! Your score is located at the top of the screen. With each passing second, your score drops. Try to finish each level as fast as you can to get the highest score!
If you enjoy solving puzzles, then we have a great game for you! Go and check Love Pins next! Have fun!
Developer
Amigo Pancho was made by Qaibo Games.
Release Date
October 2013
Features
25 levels
3 different difficulties
Entertaining gameplay
Nice graphics
Controls
Use left mouse button to destroy an object.