Angry Gran Run - Halloween Village
Play Now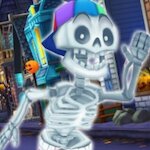 In Angry Gran Run - Halloween Village, another fantastic Angry Gran adventure with the endless running challenge is waiting for you! She is out of the Angry Asylum again and we have no idea what she is planning. It is Halloween time, and the streets are a little bit creepy. There will be various obstacles that can make her slow down but as long as she has you, it is for sure she is going to find her way!
With dark streets and spooky decorations all around the village, running might be a little bit difficult for an old granny. In this fun skill game, your objective is to help the gran run non-stop by avoiding various obstacles and collecting as many coins as possible. You should use the "A" and "D" keys to move left and right. Press the up arrow to jump on the ugly witches or spooky pumpkins and the down arrow to slide under the creepy bats or school busses. Left and right arrows make you closer to the walls. With your earnings gained through coins on the paths and kicking the people, you can upgrade your stats and buy yourself new costumes from the in-game shop. Now, settle on your couch and get your fingers ready because this gran never gets exhausted!
If you want to try another endless running adventure with a different theme, then be sure to check Super Buddy Run.
Developer
AceViral developed this game.
Features
3D colorful graphics
Daily tasks and missions
Application option providing online competing
Several upgrades and skins
Controls
Use the "A" and "D" keys to move left and right. Use the up-arrow key to jump and the down arrow key to slide. Use the left and right arrows to turn corners and getting closer to the walls.