Play Now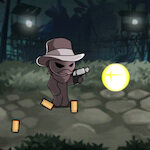 In Stickman vs Zombies, you have a long and frightening night ahead of you! Do you hear the ringing bells? The dead has come back from the hell. Dead bodies are rising from their graves to take you to the eternal darkness. Do you have what it takes to survive the zombie apocalypse?
They say that you only live once. Obviously, the person who said this have never heard of zombies. Zombies walk the earth now to take everything you hold dear. How long can you survive, in a world ruled by the dead? In this game, your objective is to send them back to their grave and earn a high score before you meet your loved ones. There's no way to stop the waves of zombies in this endless shooter game. But if you're going down, you're taking them with you! You have 3 different choices of weapons: a pistol, a rifle and bombs. You can use the coins you find on the way to upgrade your weapons. You have 5 life points when you start the game. Avoid zombies and their evil forces to not get hurt. You can try spin the wheel mini-game to get more coins. Death has come to take you. Will you put up a good fight before you go?
The world needs more heroes like you. Check our collection of free and online action games to fight evil.
Release Date
August, 2018.
Features
Endless fun gameplay
Nice 2D graphics
In-game shop to buy upgrades
Spin the wheel mini game
Controls
Use WASD keys to move and space bar to shoot.