Play Now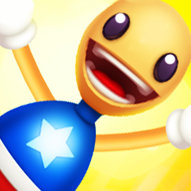 In Super Buddy Run, get ready to join us on an adventure of a lifetime! We know that adventure runs through your veins and embedded in your heart. That's why we have chosen you as our hero. So put on your running shoes. It's time to unveil your inner Usain Bolt.
Travelling to dangerous lands and facing the threats that await there... Does that sound exciting to you? If so, you're exactly who we've been looking for. Your objective is to pass each level and avoid each obstacle. You'll face mischievous bees, angry crabs, ice spikes, and other dangers along the road. To pass them without getting hurt, you have to jump by clicking on the screen. But if you do touch them, that's another story. So try to avoid them no matter the cost. But don't forget. There's also good in this world. Sometimes, you'll find presents and stars that will boost your courage. With the stars, you can buy new skins to look cooler. Every time you complete a level, you'll find yourself in a new world, in a new adventure. Try to complete each level to be the master of all worlds. We've given you all we know. Now, it's time to go out there and prove your courage. Good luck!
Well done, buddy! It's obvious that there's a desire for adventure within you. Click here to play Super Sushi Cat A Pult and show everyone that you're ready for any adventure that awaits you. Even if it means you have to be a cat in order to win!
Release Date
July 30, 2020.
Features
Colorful graphics
Intuitive controls
Different worlds to see
Entertaining gameplay
Controls
You can use your mouse to play.