Play Now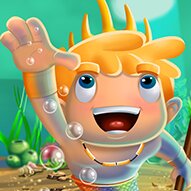 Prepare to brighten up your day with Aqua Blocks! Now all you have to do is put them in the right spots! It's not a difficult task, but you must be careful where you place the cubes! Are you prepared for some brightly colored jelly cubes? Enjoy it!
We can't deny that playing with colorful cubes has a relaxing effect on us! This game is for you if you're bored at a meeting, waiting for someone, or simply want to spend some time alone. Press the play button to begin the game. We're assuming you've played Tetris before; it's pretty similar. Making a block line that runs vertically or horizontally is the primary objective. Drag and drop the blocks into the appropriate places to complete the puzzle. Three distinct forms will be visible at the same time to help you in visualizing where the shapes should go. In exchange for your help, you will obtain an Aqua Power, which allows you to remove a horizontally and vertically blocked line from the board. To use it, simply tap on the power. Place all of the blocks strategically because the game will end if there isn't enough room. Clear more and more lines to improve your score. Aqua Blocks is a game that will keep casual gamers busy for a long time. The game will continue until there is no more room to arrange the next set of cubes! Have fun!
Do you want to play more games like this one? If so, take the different challenges in our collection of free and online puzzle games.
Developer
Freak X Apps developed Aqua Blocks.
Release Date
August 12, 2021
Features
2D colorful games
No levels to pass
Entertaining gameplay
Easy controls
Controls
You can use your mouse to play this game.