Play Now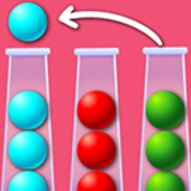 Focus on a brain-wrecking game in Ball Sort Puzzle. This sorting puzzle is one of a kind, and you won't get enough of it. When the power is in your hands, and you can manage the place of everything, you will feel like the master of these balls. So, get ready to solve the puzzle as fast as you can!
In this game, you are given several tubes with several balls in them. Some of the tubes you are given will be empty. But some of the tubes will have several balls of different colors. Your goal is to get the balls of the same color in a single tube. This may seem easy to achieve but when you have balls of all colors in a single tube and try to get them to empty ones, you will have a hard time deciding on which balls to move first. You have no time limit whatsoever in this game. Still, you will be earning coins with your strategies and successful levels. So, you can shop for new tubes to have a different style. There are 100 levels to play and five chances to shuffle the balls to have a better chance of settling things down. Do not forget that you can only move the ball on top of a tube by clicking on that tube and then moving that ball to a tube with a ball of the same color!
If you enjoyed playing Ball Sort Puzzle, you should check out our collection of free and online puzzle games next. Enjoy!
Developer
BestGamesFreePlay developed Ball Sort Puzzle New.
Release Date
August 13, 2021
Features
2D colorful graphics
Intuitive skills
Challenging game experience
Addictive gameplay
100 levels
Tubes to unlock

Controls
You can use the mouse of your computer to click on the tubes.