Play Now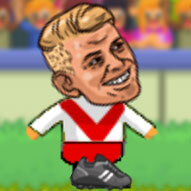 In Fiveheads Soccer, the world cup is about to begin. The stadium is full of fans and the cheers are deafening. The footballers are about to walk into the stadium and the first match is about to begin. Insert world cup songs here and join in on the fun! Are you ready to take control of one of the famous football players and prove your skills?
Get ready, footballer! This stadium will be the place you'll either hold the cup above your head or leave with your head held high. In this football game, the first thing you need to do is choose a team from one of the groups. You need to win each match to become the ultimate winner. There are two game modes you can try. One of them is 2v2 mode where you'll control 2 players. The other one is 1v1 mode where only you can determine the outcome of the match. To control the player, use the left and right arrow keys and up arrow key to jump. Press SPACE BAR to kick the ball. The team that scores more goals than the other team before the timer ends wins the match. The timer appears at the top of the screen. Have fun playing!
There are other sports than football in our collection of online football games. You can check it out by clicking here. Enjoy!
Developer
Physical Form developed Fiveheads Soccer.
Release Date
March 15, 2021
Features
Fun and addictive gameplay
Nice 2D graphics
2 different game modes
Many teams to choose from
Controls
You can use the left and right arrow keys or the A, D keys to move around. Press W or up arrow key to jump. Press SPACE BAR to kick the ball.