Play Now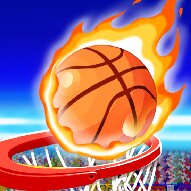 In Basket Champ, the excitement of pinball and basketball cheers meet under this solo title! Test your aiming skills and talented fingers in this amazing sports game. Click or tap on the screen and let your ball rise through the basket. With changing background and various balls, you will be locked in front of the screen for hours of fun. If you are motivated enough now, let's see if you can be the new champ after all!
You are about to jump into an amazing adventure where you'll need your basketball skills! It is no ordinary basketball adventure, though. We couldn't decide whether we liked playing pinball or basketball more, and we came up with mixing both! In this fun ball game, the objective is to bounce and dunk the ball into the basket in each level. Completing a level gives you 10 points. The real challenge begins when you try to aim. Since the ball is bouncing, it may be hard to throw it in a specific direction. No need to worry, though! Once you master the game, there is nothing that can stop you! You can also collect various boosters as you proceed in this arcade-themed ball game. If your ball falls from the stick, the game is over. You need to collect all your scores from the beginning. Have fun playing!
If you are looking for another adventure as fun and exciting as this one, then be sure to check Zoo Pinball by clicking here.
Developer
Freak X Apps developed Basket Champ.
Release Date
August 30, 2021
Features
2D colorful graphics
Changing backgrounds and balls
Single player ball game
Fun and engaging gameplay
Controls
You can use your mouse or the touch controls to play this game.