Play Now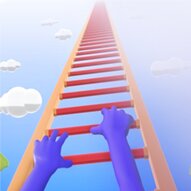 Climb the Ladder is inviting you to an adventure high above the buildings! In this journey, you are climbing a ladder above the highest buildings of the city. Don't ever look down! If you look down, you'll fall, and all your efforts will be for nothing. Move forward by holding the steps of the ladder and watch out for the broken ones. How long will you be able to survive in this dangerous journey?
Everything began when the aliens attacked the world. To stay alive, you must cross to the other side of the city. The floor is full of enemies and too dangerous to walk. That is why you must climb the ladder and never look down. In this fun game, your objective is to keep going as long as you can by holding on to the ladder. To do so, you should use your hands and watch out for the broken steps. Use the right button situated at the bottom of the game screen to hold the step. With each click, you switch your one hand to the other one. The left button allows you to switch the position of your hands, like reversing them. You have 2 lives that you can track from the left top of the screen. Since you know what to do now, let the journey begins!
Where are you going? We have another adventure for you! If you are looking for another game as fun as this one, then be sure to check Rail Slide by clicking here.
Developer
bestgames.com developed Climb The Ladder.
Release Date
May 11, 2021
Features
3D colorful graphics
Endless climbing journey
2 lives to use up
Fun and engaging gameplay
Controls
You can use your mouse or finger to play this game.