Play Now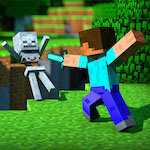 In Block World, get yourself ready for building. In this game, you'll find yourself all alone in the wilderness, and you should try your best to survive. Do you have what it takes to create yourself a shelter or maybe even a cozy house?
We don't know what 3 things you'd bring if you were to wind up on a deserted island, but it'd be best to bring some tools. The game features 2 different modes that you can play. The first one is the survival mode. In this mode, your objective is to survive as long as you can on the map. Start by exploring the surroundings. From forests to rivers, you can see many different sights in this game. When you find a good spot, you can build a house with the different blocks you have. At the bottom of the screen, your health bar is located. You should collect food to keep it full or you'll die. The second mode is the free play mode, where you don't have to worry about surviving, and can focus on building interesting things. Enjoy!
If you'd like to try a similar game click here to play our other popular title, WorldCraft 2. Have fun!
Developer
PlayJolt developed Block World.
Features
Colorful blocky 3D graphics
2 game modes
Intuitive controls
Entertaining gameplay
Controls
Use the WASD keys to move around. Press the SPACE BAR to jump. Use the number keys to cycle between the items in your inventory. Press the X key exit the game. Use the mouse to aim and place and remove blocks. Press the F and the T keys to use flashlight and torch, respectively.