Play Now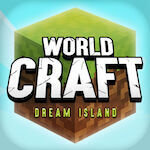 In WorldCraft 2, create the perfect world you've always dreamed of! Isn't there something so fun and exciting about creating anything that you want? If you think so, we have the perfect game for you. In this game, you can create anything that you want or remove the things that you don't want to see. Do you want to be a part of this exciting journey?
To be the creator of worlds... Doesn't it sound epic? That's what awaits you in this epic game. The power of creation is bestowed on you. It's all in your hands now and you're only limited by your own imagination. It's time to let it fly, don't you think? Start with choosing one of the 4 worlds. The worlds you visit are made of blocks. You can destroy these blocks or replace them with new materials. It's your choice. Move around using the WASD keys and find the best place to start. Oh, this world needs rivers and lakes, right? Open your inventory and create them. But a perfect world also needs the fire element. Place it on your world to benefit from it. You can move the mountains, build skyscrapers, or fill your world with flowers of all kinds. Don't let your mind limit you and explore your ideas. You got this.
There are many other games that need your brilliant ideas and talents. Click here and check out our collection of skill games. Enjoy.
Release Date
April, 2018.
Features
4 different worlds to choose between
Many different items that you can use in different ways
Fun gameplay
Intuitive controls
Controls
WASD to move around. Space bar to jump. Left-click to destroy a block and right-click to place a block. Press E to open inventory.