Play Now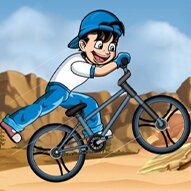 Grab your bike and start cycling on the dream platforms of every biker with BMX Kid! Collect stars and cups, slide on railings, and jump over obstacles and dangers! Try two exciting game modes, pull stunts for extra score, and unlock characters and skins to express your style on the track!
Pedal up to the world biking championship! Try both game modes to write your story on two tires and increase your riding skills and balance on the bike! Follow the increasingly difficult career levels and finish them all with three stars, or try to break a personal record in the survival mode and save your score under your name! Stay on the top of the scoreboard in whatever way you choose! Speed up to complete your jumps and reach distances with no incidents. Jump over cliffs, cars, bulls charging at you, or even your clone! Use springs to bounce up to higher points, unlock and use double jumps, higher checkpoint health, and longer stunts. You can revive at checkpoints upon crashing, but you have three lives, and after using them, you have to start over. Unlock hats and beanies to complete your character and rule the streets all around the world!
If you like this biking challenge, you can check out Moto X3M 4: Winter and keep riding under harsh weather conditions.
Developer
Ramblo Digital Media developed BMX Kid.
Release Date
June 9, 2022
Features
Colorful 2D images
Changing maps and backgrounds
Unlockable skins
Upgradable stats
Available on mobile devices
Controls
Use "W" to jump and "D" to accelerate.