Play Now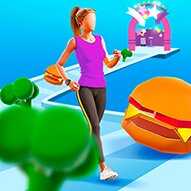 Make each step count in Body Race Online! This is a game of choices and you will face the consequences here. So, be wise and make your choices wisely. Keep in mind that you have to reach your goal to pass the levels! So, let's see if you can fight your pleasures and achieve this challenge!
You will run through the platform with your character and make many choices. There is a long road waiting for you at each level. To pass these levels, you need to be under a certain weight and be healthy. So, this means making wise choices such as saying no to the hamburgers and bottles of cokes that are put before you. Instead, you should always opt for healthy food and the chance to exercise. When you make the right choices one after another, you will be a fit and healthy person. That is when you can pass the level! So, let's see if you can lead your character to the correct things to do!
If you enjoyed this interesting 3D game where you make choices to determine your fate, you should also check out Run Rich 3D for similar gameplay!
Developer
YAD.Com developed Body Race Online.
Release Date
January 17, 2022
Features
3D colorful graphics
Multiple levels to complete
Entertaining and addictive levels
Skins to unlock
Controls
You can use the mouse of your computer to move the character and get the collectibles