Play Now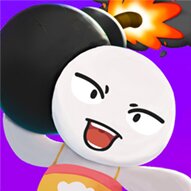 With Bomb Prank, get ready for the deadliest prank of your life! These bombs are real and one of you must go tonight! Who will be defeated? The one with the bomb is in danger and all the enemies that the one has known as friends will be waiting to take down each other. Be confident and get your eyes wide open! Trust no one but yourself only. If you are ready for the rush now, let this game begin!
Let's play with the bombs they said. It will be fun they said. But two of them must be eliminated tonight! This is not a prank but the merciless war between the ones who were supposed to be friends. In this fun multiplayer arena, your objective is to avoid the bomb as long as possible. If someone delivers the bomb to you, you should dump the bomb on someone else immediately! When the countdown begins, you must hand the bomb to one of your enemies without batting an eye. When the countdown ends, the ones with the bomb will be eliminated and the rest will continue this merciless game as if nothing happened. As you proceed in the game, the player number will increase as well. You should focus on the game and follow the bombs to stay away. Never forget, if you fall into the water, you die! Good luck now, and have fun playing!
If you're looking for more competitions among players all around the world, be sure to check our collection of free and online multiplayer games by clicking here and browse more fun titles like this game.
Developer
YAD.Com developed Bomb Prank.
Release Date
April 30, 2021
Features
3D colorful graphics
Several levels to complete
Competing with players all around the world
Fun and engaging gameplay
Controls
You can use your mouse or finger to play this game.