Play Now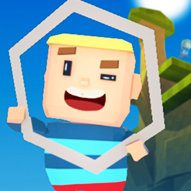 KoGaMa Pro Run is an online 3D multiplayer game in which you have different missions to complete! There are many deadly obstacles in your way! You should win the race and earn extra gold! The winner will be the one who touches the flag as fast as possible! Could you find a way to overcome all the obstacles and win or not? Start the game and let's see!
This title seems like a simple game, but it's not as it seems! Create your own character and start your journey in the KoGaMa world! Get ready on the start to become a pro runner! You should overcome the obstacles like acid, pits, spikes, and many more. You need to be the fastest to win the race and reach the flag. You can control your character with your keyboard (WASD). Try to win the race and earn extra gold. You can customize your character with the gold. You also get gold when you level up! Be careful about the other players, you should survive to become the winner. If you are ready, start the game and become the winner!
If you want to try another skill game similar to this one, then be sure to check Vex 5, too. Have fun playing!
Developer
KoGaMa developed Kogama Pro Run.
Release Date
August 19, 2020
Features
Racing game
Multiplayer online game
3D Colorful graphics
Adventurous gameplay
Controls
W Move forward. S Move backward. A Move left. D Move right. Space Jump. K Respawn. Left Mouse Button Shoot. V Drop the weapon. E Use item. Q Holster weapon. Esc or M Menu/Quit.