Play Now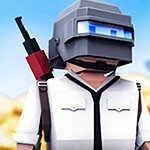 In PUBG Pixel, get ready to prove your skills against other players. Fighting against NPCs might be easy, but other players pose a different kind of a challenge with their unpredictable moves. Can you be the last survivor in this heated combat?
Grab the best weapons you can find, and get into the position to hunt others one by one. Your objective in this game is to defeat every other player in the battle and be the only survivor. Before heading into the heat of the battle, pick a character by clicking on the button located in the bottom right corner of the main menu. There are 5 different character skins to choose from. Then, click on the start game button and start match. You'll enter the area with a plane. Click on the F key to jump from it, and make your way to the buildings to grab yourself weapons. Look for others, and try to kill them without getting killed. Good luck!
For more games like this one, don't forget to check our collection page of various free action games. Have fun playing!
Developer
fugames developed PUBG Pixel.
Release Date
April 2, 2019
Features
Colorful 3D graphics
Online multiplayer gameplay
5 different character options to choose from
Intuitive controls
Controls
Use the WASD keys to move around. Use your mouse to aim and shoot. Click on the right mouse button to zoom. Use the F key to interact with objects. Press the Space Bar button to jump. Use the C key to crouch and the V key to change the camera.