Play Now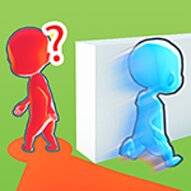 You will help this little baby in becoming the best warrior in Brave Baby Escape! The life of a guy is on the line! The elderly wizard was captured by wicked creatures and dark powers. Only you and you alone have the ability to control the baby witch and improve her abilities while destroying the enemies. Now is the time for revolution! You must defeat the wicked castle and put an end to the terrible magic. Do you have what it takes to permanently empower the good? Good luck!
It is only a matter of time before the world is dominated by evil. You're about to enter a castle full of fearsome creatures, and nothing good will come of it. You do, however, have a fantastic mission to complete! You must save the ancient wizard and restore world peace! The goal of this fun, simple game is to reach the old man while avoiding the enemies. Because they have magic, it won't be easy. Use your mouse or the touch controls to control the baby. You must collect the keys in order to transform the baby into a powerful witch. Keep a safe distance from the wanderers. They are on the watch for foreigners who are approaching the castle and are attempting to capture them. Use your magic to defeat the evil snake woman. Move on to the next level after saving the man. Let's show to them who they're dealing with right now! Have fun!
Do you want to play more games like this one? If so, take the different challenges in our collection of free and online adventure games.
Developer
YAD.Com developed Brave Baby Escape.
Release Date
August 24, 2021
Features
3D colorful graphics
Several challenging levels to complete
Various obstacles to avoid
Fun and addictive gameplay
Controls
You can use your mouse or the touch controls to play this game.