Play Now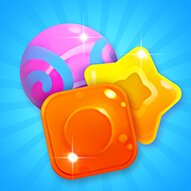 Discover the sweet lands of Candy Rain 7! Join the candy folks in this adventure-filled road of puzzles, match candies with them, and break score records together! Find treasure chests, get rewarded handsomely for your victories, and crush candies with your strategy skills! Advance through mysterious and sweet levels of this colorful realm and discover all the secrets waiting to be revealed!
Set out on the most delicious journey of your life! Get ready for a sugar rush and the trickiest puzzle missions! Align glamorous candies to crush them, match four or five candies to get unique animations and special booster candies with super moves! Follow the candy people of this fantastic and tasty land, get level quests, and complete them before you run out of time or moves. Keep an eye on the left to check your remaining time or moves. Finish levels in time to make candies rain and get extra points. Complete levels with high points to get three stars. Combine candies in unique ways to get line blasts, cross blasts, spiral bombs, and other surprise sweets! Pass levels to unlock surprise features and explore more challenging levels! Buy special booster powers to get some help in hard times!
If you like this cute matching puzzle, you can check out Cookie Crush 4 for a new taste!
Developer
SOFTGAMES – Mobile Entertainment Services GmbH developed Candy Rain 7.
Release Date
July 25, 2022
Features
Adorable characters
Easy controls
Sweetest lands of puzzles as a map
Challenging puzzles
Unlockable boosters
Available on mobile devices
Controls
You can use your mouse to play this game.