Play Now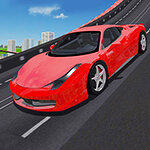 In Car Driving Stunt Game, you better hold on tight to the steering wheel! If you've always wanted to drive through the city at high speed without care, then you'll love this game. The city is your playground in this game, so floor the gas, and perform amazing stunts with awesome cars!
No need to check your rearview mirror! No cops will try to stop you from having fun here! If you're ready to show the speed demon in you, then let's start. The main objective of this game is to perform as many stunts as you can. From even and organized streets to ramps and other thrilling driving tracks, you can experience the excitement of driving a car freely. Before hitting the play button on the main menu, you should pick a car to drive first. The game offers 4 different cars, but only the first one is available in the beginning. You can unlock the rest by collecting certain amounts of gems in the game. Switch to those cars to see how many gems you need. When you're in the game, you can see your fuel meter on the left side of the screen. It depletes with time, but you can refill it. Drive around and perform stunts. Collect gems and unlock all the cars in the garage! Have fun!
For more games like this one, be sure to check our collection of free car games. Enjoy!
Developer
Free Online Games developed Car Driving Stunt Game.
Release Date
July 30, 2019
Features
Colorful 3D graphics
4 different cars that you can use
Entertaining and addictive gameplay
Intuitive controls
Controls
You can use the arrow keys or the WASD keys to control your car. Press the SPACE BAR for brakes.