Play Now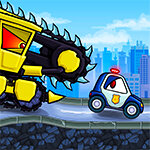 In Car Eats Car: Evil Cars, it's time for some action. After being told that they're old and rusty, the characters of this game got into trouble and ended up in jail. Coming up with an escape plan wasn't easy, but with your help, these cars can make it to Freedom Island. Can you help them escape from the cops?
Being old, rusty, and evil is not an excuse to be locked up in jail. Time to show them what you're really made of! The objective of this game is similar to the other titles in this popular series. You try to complete each level by reaching the finish line without dying. To start the game, click on the screen. Next, you'll see the level selection screen. Only the first level is available in the beginning, but you can unlock the rest as you play. Being an outlaw is not an easy job, but the controls of this game are pretty simple. Try to avoid obstacles and deadly traps, and watch out for cops following you. Collect the gems you see around, as you can use them to buy gadgets, bombs, and upgrades. Good luck!
For more games like this, be sure to visit our collection page of online car games. Have fun playing!
Developer
SMOKOKO LTD developed Car Eats Car: Evil Cars.
Release Date
August 19, 2019
Features
Colorful 2D graphics
Dozens of levels to complete
Entertaining gameplay
3 different cars to unlock and use
Intuitive controls
4 different stats to improve
5 different bombs to use
5 different gadgets to use
Controls
Use the WASD or the arrow keys to move. Press the X key to use your turbo boost. Press the SPACE BAR key to use bombs.