Car Eats Car: Underwater Adventure
Play Now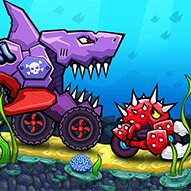 The breathtaking chase continues in deep waters with Car Eats Car: Underwater Adventure! Upgrade your monster truck, speed up to leave evil cars behind, avoid pufferfish, and leave this prison of madness behind with your friends! Try new cars and complete your collection with fully upgraded monster trucks!
Car Eats Car saga is back with more adventure for us. Shake off your thalassophobia and get ready to discover what lurks in the depths. Spin the wheel before every level to gain additional boosts for that level. Collect treasures, use nitro to do spins, pick up diamonds and other valuable gems, and get rid of police cars and fish chasing after you. Use your treasure to upgrade your car's performance features like armor, nitro, speed, and damage. You can also use gold to unlock accessories like magnets or buy new types of bombs. Find car eggs among levels and crack them on the incubator. Play mini-games and use the gems you found to grow your baby cars into monster trucks. Earn up to three skulls on every level and collect fifty-five to unlock the ultimate boss fight. Jump over deep-sea monsters and defeat the enemies on your way to break out alive!
If you like this game, you can check out Car Eats Car: Volcanic Adventure and carry this fight to hell!
Developer
SMOKOKO LTD developed Car Eats Car: Underwater Adventure.
Release Date
April 4, 2022
Features
Colored 3D graphics
Simple controls
Fantastic underwater theme
Unlockable content
Mini-games
Controls
Use the arrow keys to move, the spacebar to leave bombs, and "X" for nitro.