Play Now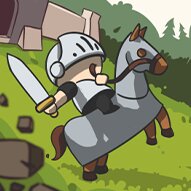 Give in all you have got to protect your castle in Castle Defender Saga! You are the one and only owner of a beautiful castle, and the enemies are on their way to attack you and your castle. So, make your strategies and be prepared to eliminate your enemies. Can you protect your enemies and your life?
Your castle is your everything, and you don't accept defeat as an option. Now, get ready to play this challenging strategy game and protect your castle through different waves of enemies. When your enemies are trying to invade your castle, the best power you have is your troops. You should use and place your knights, cavalry, and archers to fight against the enemy forces. Sometimes you will have the chance to upgrade your soldiers to magicians so that you can cast a spell on your enemies. In this game, there's an endless series of enemies coming, and you got to defend your land as long as you can. Collect coins to upgrade your skills or your castle and fight against enemies more easily. Are you ready to become a legendary lord and be the sole owner of your caste?
If you enjoyed playing Castle Defender Saga, be sure to check our collection of online and free strategy games by clicking here.
Developer
MarketJS developed Castle Defender Saga.
Release Date
October 16, 2021
Features
2D colorful graphics
Intuitive skills
Need for strategic thinking
Soldiers and abilities to unlock
Controls
You can use your mouse to choose the options.