Play Now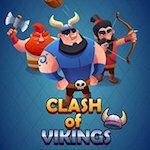 In Clash of Vikings, take out your sword, and get ready for an epic battle! Your enemy is so sure of themselves that they're not expecting you to beat them. Plan your moves carefully, and prove your rival wrong by claiming victory in this fun game!
Only the strongest and the most resourceful side can win this war! Your objective in this game is to destroy your enemy's towers before they have a chance to destroy yours. You have 9 different units and 5 different special attacks at your disposal to use against your opponent. Before heading into the battle, you must be prepared! Create a battle card deck by clicking on the icon located in the bottom right corner of the screen. When you're ready, wear your helmet and get ready to face your enemy! Your units are located at the lower center of the screen. The pink droplet icon on each of your unit card represents their cost. Below that you can see your elixir meter. This fills up with time. Each side has 3 towers in the beginning. The towers located on the sides are there to protect and defend the main tower, so it's best to destroy them first. Defeat enemy units and towers to win this war! Can you destroy your enemy before the time runs out?
Careful planning and strategic thinking is what you need to be successful in our free strategy games. Have fun!
Release Date
February 2017
Features
Variety of different units to use
Colorful graphics
Entertaining gameplay
Intuitive controls
Controls
Use your mouse to drag and drop your units to the ground.