Play Now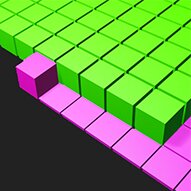 Carry your patterns wherever you set your foot with Color Fill. Are you a cat or dog person? Or would you rather say neither and go with leaves or random patterns? We have all the options here! Check out all exclusive relaxing designs in pastel colors, and choose the one that has been waiting for you!
Look at that tiny, colored tile; it's you! And you are about to conquer this arena. Don't be shy, move a little. You can see that you mark the path you walk and use it to cut the map into two pieces. You are safe when you are standing on the walls or in your territory, but it's game over if you interact with any moving shapes. What these enemy tiles don't know is; touching your tiles destroys them, leaving you more space to roam freely. Focus on eliminating them first, and cover the whole map. Also, collect the diamonds so you can use them to unlock more skins for your tiles if you ever get bored of the current one. Or, if you are looking for a small change, you can just unlock the same design with different color and enjoy the new soft color!
If you like puzzle games with relaxing themes, you can check out Poly Art and experience a whole new kind of puzzle with stunning images.
Developer
PuzzleGame.Com developed Color Fill.
Release Date
February 14, 2022
Features
Easy to play
Fun and addictive levels
16 unlockable skin options
Adorable animal themes
Available on mobile devices
Controls
You can use your mouse or arrow keys to move your tile.