Play Now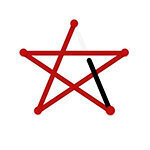 In Connect Dots, get ready for a challenging and entertaining puzzle! Drawing lines between dots to see what kind of image would come out is a fun and simple way to have fun. Adding a bit of a challenge to this relaxing activity, you'll have lots of fun while trying to figure out the solution to the many different levels in this game! Start playing now!
You don't need a pen and paper to play this game! Just grab your mouse and you're ready to go! The main objective of this game is to draw lines between dots to connect them. If this is your first time playing this game, click on the new game button on the main menu to start. If you played the game before, you can click on the continue button to play from where you left off. On each level, you'll be given different dots and lines between them. Click and drag your cursor from one dot to another to link them. Plan your moves carefully to avoid getting blocked. When you completely draw all the lines and connect the dots, you pass the level. If you made a mistake, you can undo your last move by using the button in the bottom right corner of the screen. Good luck!
Up for the challenge? Why not try our other popular title, Tic Tac Toe Paper Note by clicking here? Have fun!
Developer
FG Studio developed Connect Dots.
Release Date
June 12, 2019
Features
Colorful 2D graphics
Intuitive controls
Multiple challenging levels
Addictive and entertaining gameplay
Controls
You can use your mouse to play this game.