Play Now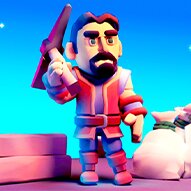 Dive into the deepest mines and search for valuable materials to improve your mining quality with Crafty Miner! Upgrade your skills and chances underground to find the gems you are looking for! Mine your way through the tunnels and craft new pickaxes to keep up with the increasing challenge!
Hold a light to the darkest corners of the earth with your pickaxe! Invite friends or keep the adventure all to yourself and work hard to reach the exits of the narrowest tunnels! Find the material veins in the dark and carry your load to the center to earn gold. You can hire another worker for a limited time and double the efficiency. You start with a small bag and slow shoes, but do not worry; you can upgrade all these features with gold. All mined raw materials can be used to craft new tools, but some are rarer than others and more efficient to work with. Save gems and metals to craft your ideal pickaxe and enjoy your new speed! Upgrade your chance to find rare gems to get your hands on the valuable stuff faster and build a better tool! Good luck!
If you like this addictive adventure with upgradable stats, you can check out Tiny Landlord and start upgrading the buildings of your city!
Developer
Andy Games developed Crafty Miner.
Release Date
July 4, 2022
Features
Colorful 3D graphics
Cool character designs
Improvable character stats and skills
Addictive and fun gameplay
Available on mobile devices
Controls
You can use your mouse to play this game.