Play Now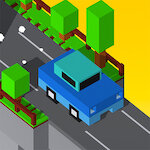 In Crossy Bridge, jump into your car and get ready for a long and eventful ride. With trees planted on the sides, the road might look peaceful at a first glance, but that's not the case. With mobile road pieces and other obstacles, how long do you think you can travel?
Normally roads should be stable and safe. But in this game, you better brace yourself. The objective of this game is to travel as far as you can by fixing the road before your car passes through it. This might be a challenge but you can play this game easily with your mouse. Click on the screen on the main menu to start the game. The car will move on its own. You'll see parts of the road move back and forth. When they're in line with the rest of the road, click on the screen to make these parts stop moving to ensure a safe passage for the car. You earn a point with each obstacle you pass. If you manage to align the moving parts to the road perfectly, you'll also earn tokens. These can be used to unlock new cars. Have fun and good luck.
If you like playing with different vehicles, then check our collection page of free car games by clicking here. Enjoy!
Developer
BestGames developed Crossy Bridge.
Release Date
September 19, 2018
Features
Fun blocky 3D graphics
30 different car skins that you can unlock and use
Entertaining gameplay
Intuitive controls
Controls
Use your mouse to play this game. Click on the screen to stop the moving parts of the road.