Play Now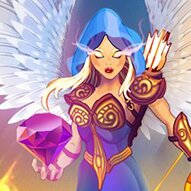 Protect your gems from the enemy waves with Cursed Treasure 1½! Build protection towers on three types of terrain, keep your gems safe from thieves, and upgrade your skills to defend your treasure better! Prepare your lands for all types of enemies and repulse all attacks with strategic defense!
Three cursed gems were given to the three nations of the magical lands: orcs, undead, and demons. After a long period of peace, the evil Overlord discovered their powers and went after them. After long years of peril and bloodshed, the gems fell into the bad hands and remained there, waiting for the mighty heroes to come back for them. You will be the evil Overlord here. Keep your gems where they belong; a cave deep in the woods, and place towers to stop the enemies in their tracks. Use three different types of defense powers with unique attack types, strategize your moves, and let the enemy hordes rush into your trap. Upgrade your towers to increase your attack power and prepare for the next waves. Choose the skills you want to unlock on the skill tree, and draw a balanced power route for your defense tactics. Do not forget to use mana to give the enemy forces a little scare!
If you like this addictive tower defense gem, you can check out Slime Rush TD 2 and protect the doors from the slime army's attacks!
Developer
IriySoft developed Cursed Treasure 1½.
Release Date
September 1, 2022
Features
Good 2D graphics
Complex skill tree
Easy to play
Improving strategy skills
Available on mobile devices
Controls
You can use your mouse to play this game.