Play Now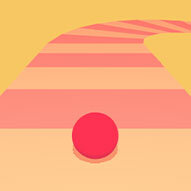 Roll your way down hills in Curvy Road! You have a cute fluffy red ball in hand and an endless curvy road before you. When you have these in hand, you should think about nothing but rolling the way down with the ball. Let's see if you can handle this curvy road without falling off!
In this game with an endless road, your aim is simple yet challenging. You should roll the ball as much as you can without letting it off the road. This will not be very easy since you have to have rapid maneuvres one after the other not to fall off the edges. There will be some checkpoints for you through the road which will determine your points. Just try to let the ball down for as long as you can. The last checkpoint you see before falling is the point you get. Let's see if you can handle the road and if you are a good enough player to challenge yourself again and again in this endless game!
If you enjoyed playing Curvy Road, you should try out our other skill games, too.
Developer
MarketJS developed Curvy Road.
Release Date
November 18, 2021
Features
3D colorful graphics
Challenging gameplay
Intuitive controls
Endless road
Controls
You can use the arrow keys of your computer to rotate the ball.