Play Now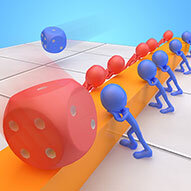 With Dice Push, push the limits of your muscles! Not only your eyes but also your fingers and eyes will be tired at the end of this adventure! Will it stop you, though? Of course not! Because that sweet satisfaction of the victory will charge your energy and allow you to get ready for the second round! All you need to do, aim at the target, roll the dice and push as strong as possible!
The best victories come from the hardest competitions. In this one, your opponents are strong, but you are stronger. You must defeat them with your intelligence, skills, and, most importantly, your luck. As we all know, when it comes to the challenges with dice, there is always luck to clear or block your way. In this fun 3D game, your objective is to collect as many pushers as you can while eliminating your opponent's. Aim at the pushers of your opponent and release your dice. It will roll and fall on them. Use your mouse to aim, adjust the speed and angle, then release the button. Once your dice stops, you get pushers with the same number as your dice's number. Don't forget that the player with more pushers, wins the round. If you are ready now, then let this craze begins!
If you are up for trying another fun 3D game similar to this one, then be sure to check Trick Track 3D by clicking here.
Developer
bestgames.com developed Dice Push.
Release Date
June 16, 2021
Features
3D colorful graphics
Simple controls
Endless victories to achieve
Fun and engaging gameplay
Controls
You can use your mouse or finger to play this game.