Play Now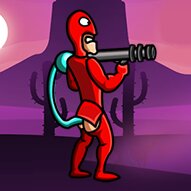 In Doodieman Bazooka, one of the most interesting shooting experiences is waiting for you! You have an army of enemies consist of the most known criminals! Luckily, Doodieman and his powerful weapon will be there too. When you are together, nothing can stop you 2! Aim at the bad guys, adjust your strength and angle to kill 'em all. If you are ready for this thrill now, then let this fight begins!
In a world of darkness, only the bullets have the right to speak. The most known criminals of the city are waiting for your shot. Whatever you do, don't miss it. In this fun shooting game, your objective is to destroy your enemies and pass the levels. For each level, you have a certain number of bullets that you can use. If you use them up and leave enemies behind, you fail. Click with your mouse or tap on the screen to adjust your angle and power. As you proceed in the game, you may need to use strategies to complete tricky levels. You can track your remaining bullets from the top of your character. There is a restart button at the left top of the game screen. You can restart your current level at any time under any circumstances! The levels can be completed only when you eliminate all the enemies. Good luck and have fun playing!
If you can't enough of thrill and adrenalin in your life, be sure to check our collection of free and online action games by clicking here to browse more fun titles like this game.
Developer
kiz10.com developed Doodieman Bazooka.
Release Date
July 9, 2021
Features
2D colorful graphics
Several levels to complete
simple controls
Entertaining and engaging gameplay
Controls
You can use your mouse or finger to play this game.