Play Now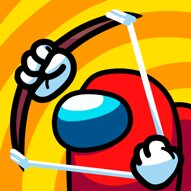 In Impostor Archer War, somewhere faraway in the Space, impostors are up to no good. Ever since they came out of the shadows and made their true identity known to everyone, there has been a battle going on. Do you think you can eliminate your enemies and become the most powerful impostor of all?
We have some good news and bad news. Good news is you don't have to hide your identity anymore. Bad news is there are no more humans to slaughter, and all the impostors are fighting each other to survive. If you want to survive the threat of your own kin, you have to prove you would make a good enemy. Your objective is simple. Travel deep into the dark corners of the spaceship and eliminate all the other impostors that dare cross your path. Your character will start shooting arrows on their own. All you need to do is use the arow keys to move and avoid your enemies' arrows. At the bottom of the screen, you can see your special arrows. Click on them to use them. Your and your enemy's health bar appears on the top of the screen. When you complete a level you will earn coins which you can use to unlock new impostors with different stats. You can also upgrade your arrows to lay waste to your foes. As the game progresses, you will face more than one enemy in one level. Have fun playing!
If you want to take a trip down the nostalgia lane, play Impostor by clicking here. Enjoy!
Developer
kiz10.com developed Impostor Archer War.
Release Date
July 15, 2021
Features
New characters to unlock
Powers to upgrade
Many levels to complete
Fun and addictive gameplay
Controls
Use the arrow keys to move our character.