Play Now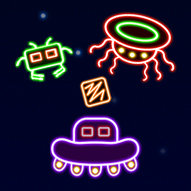 In Neon Invaders, it's time to stand your ground in wave after wave of enemies in this twist! Somehow you found yourself in space, but luckily your ship is armed! You need to stay alive and protect your ship in this exciting space game! Can you handle this mission? Have fun!
You are in space and nobody knows how you end up there. We can deal with this issue later, but now you have another problem! A group of aliens is attacking you! Luckily, your ship is armed. All you need to do is press the space bar to use your ammo. Are you ready to start this action? Click on the play button and start the game now! Be careful! Your enemies will also shoot at you. So, you can evade their attacks by using your right and left arrow keys to move around. You can also use the bricks to hide behind and protect yourself. But the walls will not hold them for so long. You should be really fast and smart to get rid of them quickly. When the aliens manage to shoot you, you will lose a life. You can follow your lives at the left top corner of the screen. You should beat them before your energy is depleted! Are you ready for a war in space? Good luck!
If you liked Neon Invaders, to check our collection of free and online action games, click here!
Developer
Fun Best Games developed Neon Invaders.
Release Date
January 5, 2021
Features
Challenging gameplay
Various levels to complete
2D graphics
Intuitive controls
Controls
You can use the left and right arrow key to move around. Use the Space Bar to shoot.